Patient Forms
Upon entering our office, our patient care representative will welcome you. You will have been emailed the forms, please fill them out ahead of time and bring them with you. If you were unable to fill them out ahead, please arrive 1/2 hour early and our front desk personnel will be provided forms to complete (These can be found under the form tab above- please be detailed, tell use the how and when your discomfort started.). This paperwork provides us with a brief history and information regarding you and your condition.
---

Consultation
Next, you will have a consultation with one of our doctors to discuss your health-related problems, concerns, and potential treatment options. This initial visit is designed for the doctor to learn more about you, your condition, and expectations to determine how chiropractic care or another form of treatment can meet your goals.
---
Examination

After your consultation, your doctor will perform a complete chiropractic examination testing your range of motion, neurological, orthopedic, postural, and tenderness to palpation.
---
X-Ray Studies

Depending on your specific condition, we may request imaging (X-rays), these help us see your bony structures, air spaces, fluid and any metal artifacts. They provide us the ability to develop the most effective treatment plan for you, and alert us of any serious spinal or other joint conditions. Most people are amazed once they see their X-rays up close. In some cases, they can even identify their own misalignments and degeneration themselves.
---

Report of Findings
Once the information is collected and examinations are performed, the doctor will discuss with you what the examination revealed, treatments available and answer any questions including:
1. How can we help me?
2. How often do you need to come in?
3. What treatment cost may be?
After reviewing your health history, goals, and examining your spine and X-rays, doctor will discuss recommendations and notify you if your condition requires care with other providers. Our doctors will provide the best treatment available for your needs.
---
Treatment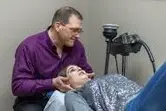 You have come to our office because typically, you are in pain. We feel that we are doing you a disservice if we make you wait longer to address your complaints. Unlike many offices, our treatment will start on day one.. This may include spinal adjustments, physical therapy, and/or soft tissue massage. Treatment is interactive, so you can express concerns about the different styles of treatment anytime.
---