Manipulation Under Anesthesia with Fibrosis Release Procedures (MUA-FRP)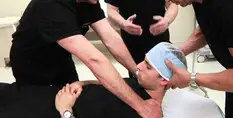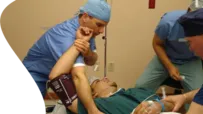 Manipulation under anesthesia (MUA-FRP) is a non-invasive procedure that has been utilized for over 70 years. It is increasingly offered for acute and chronic unresolved conditions such as: neck pain, back pain, joint pain, muscle spasm, shortened muscles, fibrous adhesions, and long term pain syndromes. The procedure consists of the patient being sedated with anesthesia (pre-op Versed or Fentanyl) and during the MUA may include the anesthesiologist's choice of Propofol (Diprivan), Midazolam (Versed), Sufentanyl, and, occasionally, Succinylcholine, through a secured IV. The MUA-FRP is performed by a specially trained MD, DO or DC in a local surgical center.
Many people have been suffering with all types of pain from acute pain to chronic pain. Many have spent months, if not years with their pain management doctor getting multiple rounds of injections or left to taking daily medications such as pain relievers, muscle relaxers, etc.. You deserve better care and treatment. MUA-FRP has been shown time and time again to break pain cycles and allow many people who were previously unable to enjoy life, have the life they use to have! We work with many pain management doctors and perform MUA-FRP at the same time as your injection procedure.
Likewise, if you have been going to your chiropractor or physical therapist 2, 3 or 4 times per week for months on end, you may likely be a candidate. Give us a call and see if we can help your chiropractor or physical therapist get you better, FASTER!
We have privileges at many surgical centers around the valley. Call us today for your consultation!
Patient selection criteria is very specific, if you have suffered with chronic back pain, shoulder pain, hip or knee pain with restricted range of motion, you may be a candidate.
The link below provides more information regarding this procedure.
https://www.spine-health.com/t...